Construction Software for Sage 50 and Sage 200
Introducing Construct for Sage Accounts, the preferred contract cost management solution for contractors in the construction industry. Our comprehensive and flexible cloud-based software empowers your business to operate effectively and efficiently. Increase margins, streamline project management, and save valuable time and resources with our powerful construction accounting solution.
Contract budgeting / Job costing
User-defined and fully editable budget templates with cost codes allow you to easily setup and track jobs based on real-time progress of Budgets v Ordered v Delivered/Accrued v Actuals v Cost to Complete.
The Construct Contract Enquiry mobile app allows your employees to view their contracts while on the go, to get a real-time view of key information relating to the current financial position of any Contract.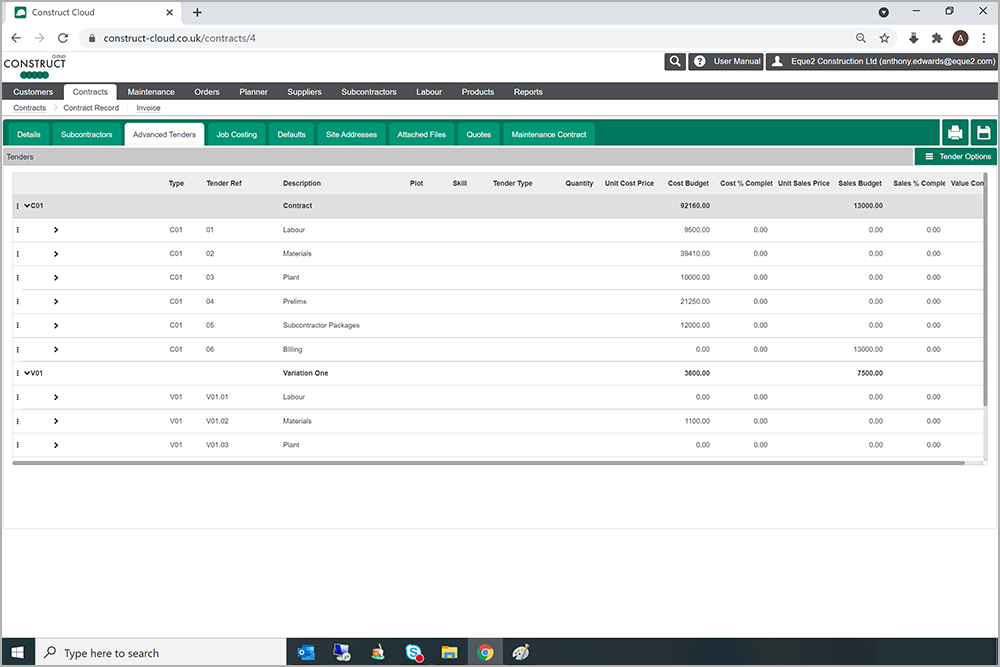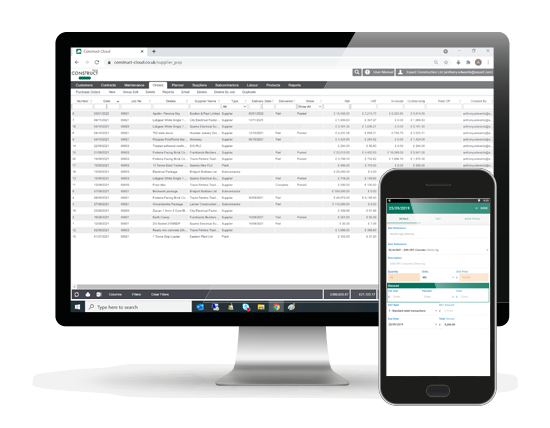 Purchase Order Processing
Ability to raise purchase orders, with appropriate authorisation rules, and track them against contract budgets to highlight overspend. Utilise the Construct Mobile app to match raise orders from site and track exactly what is delivered to site and invoiced.
Managing Subcontractors
Reduce manual work and risk of errors with online CIS verifications, insurance & CSCS tracking. Monitor performance ratings and manage subcontracted orders, subcontractor applications, invoice matching, cumulative tracking and self-billing payment certifications.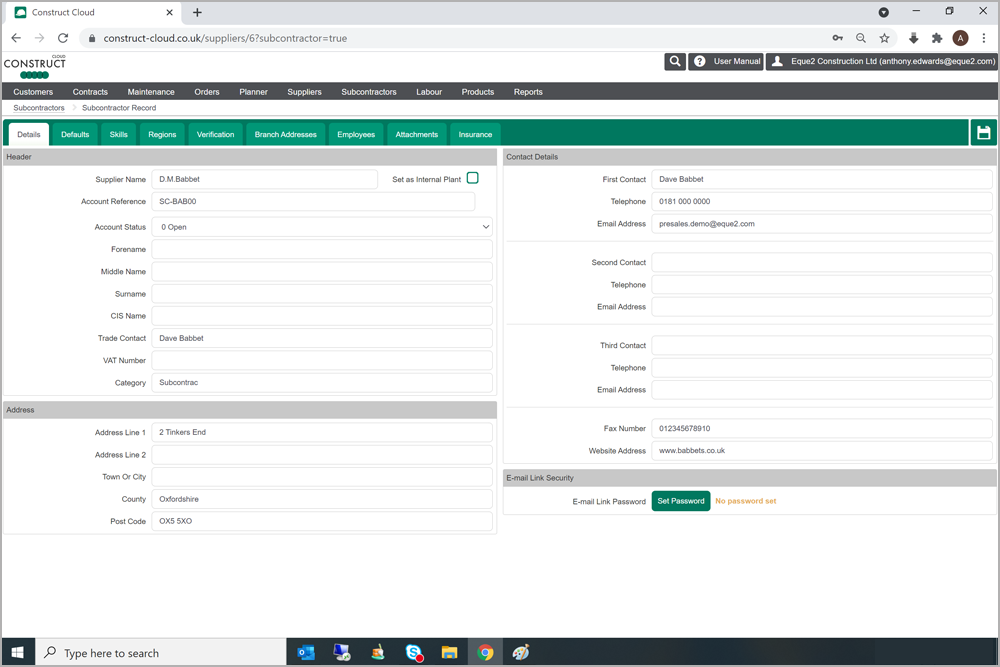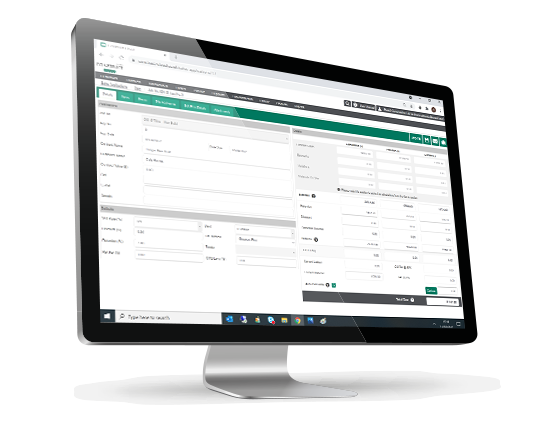 Applications & Retentions
Keep accurate records of Applications for Payment, and details of Sales invoices received. Track retentions held by or against you to make sure they are claimed for at the appropriate points using automatically calculated release dates.
Advanced reporting
Powerful advanced reporting module, based on Microsoft Excel, allows you to closely monitor project performance and reduce reliance on your accounts team for contract information.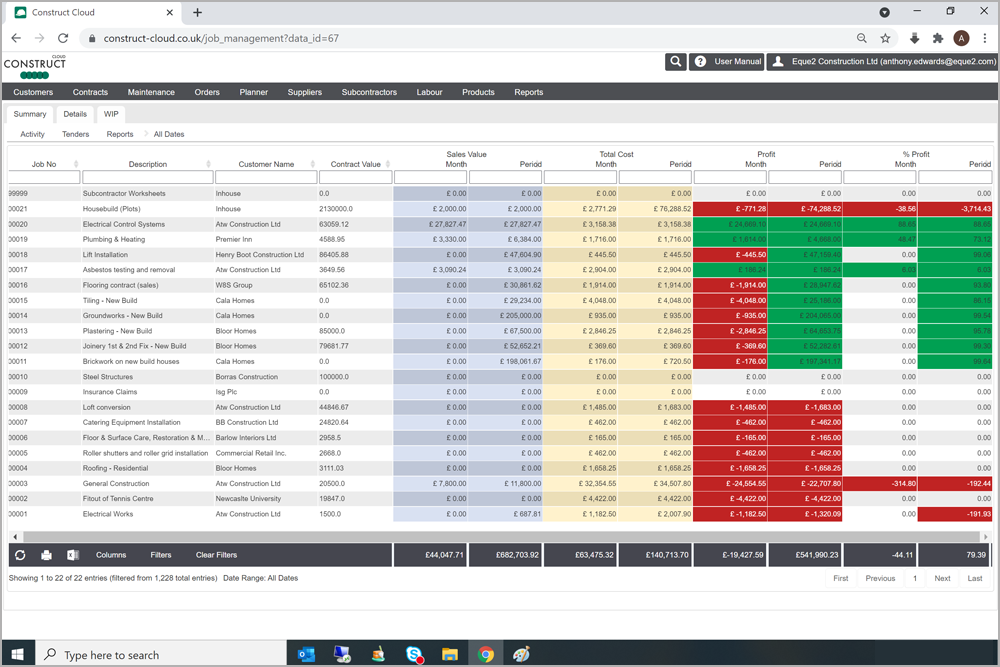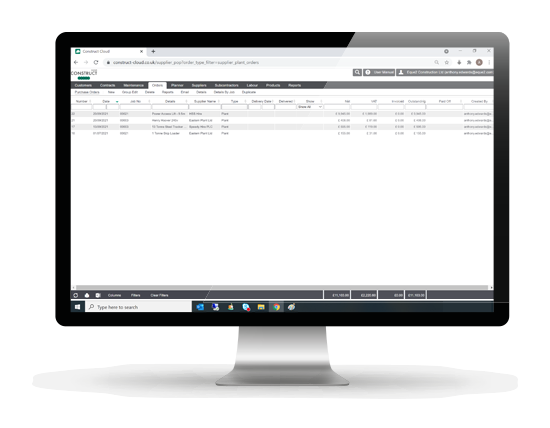 Plant hire orders & tracking
Realise the true impact of plant costs on your contracts by recording plant orders, on hire/off hire tracking per contract. Receive overspend warnings and accrued costs. Match invoices back to relevant on/off hire period.
Range of mobile apps connecting site with the back office
Construct provides a range of mobile apps to help businesses improve communication and visibility of information between what happens on-site with teams in the office.
Delivery Notes: Enables you to consistently achieve a three-way match between purchase orders raised, the goods which turn up on-site and the invoices you are asked to pay.
Timesheets: Allows employees and site managers to enter time sheets for themselves or their team, through any Android or Apple device in real-time, which are then transferred automatically over to Construct for Sage Accounts, removing the need to chase, collate, enter or import time sheets manually.
Purchase Orders: Allows users to raise purchase orders from any Apple or Android mobile device when off-site in real-time, removing the need to chase colleagues in the office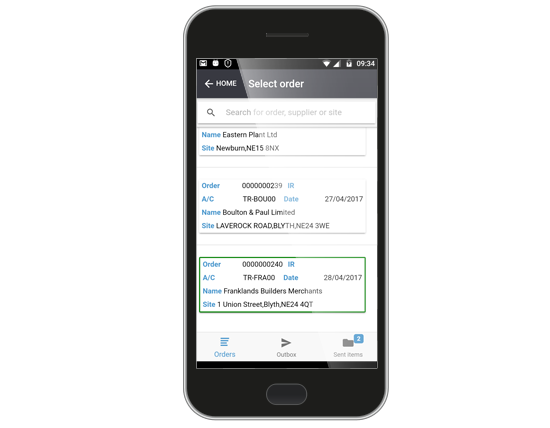 Case Study: W Stirland
W Stirland make the move to Construct for Sage
"The workload within the office has lessened and personally I no longer have to work every weekend and late nights – I'm so pleased that we made the move. The integration with Sage is key because of the audit trail and the ability to follow everything through."
Kay Gallagher
Why Sherwood Systems?
Sherwood Systems possesses extensive expertise in implementing and providing support for Sage 200, from simple upgrades to complex migrations.
Smooth Implementation and Transition
Smooth platform transition and implementation.
Specialised Data Conversion
Special data conversion routines to handle your historical data.
Responsive Telephone Support
Easily accessible telephone support from the UK & Ireland.
Rapid Support Response Time
92.4% of inquiries addressed within 1 hour.